World sales / Distribution

France
Epicentre Films
55, rue de la Mare
75020 Paris
France
Tel.: +33 (0)1 43 49 03 03
E-mail: info@epicentrefilms.com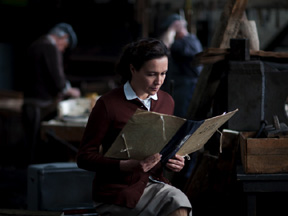 Amos Gitai tells the story of his father, Munio Weinraub, who was a student at the Bauhaus design and architecture school in the city of Dessau, before Hitler closed the school in 1933. In May 1933, Weinraub was accused of "treason against the German people" and sent to prison and later on expulsed away from Germany. The film follows Munio's route from Poland to Germany, from Switzerland to Palestine.
Cast Yaël Abecassis, Theo Ballmer, Keren Gitai and the voices of Jeanne Moreau, Hanna Schygulla Written by Amos Gitai Cinematography Renato Berta, Giora Bejach, Gabriele Basilico, Richard Copans, Amos Gitai Sound Michel Kharat, Alex Claude, Yisrael David, Sebastian Stroux Music Zoe Keating, Abel Ehrlich Editing Isabelle Ingold Producer(s) Laurent Truchot, Michael Tapuach, Alexandre Iordachescu, Enzo Porcelli, Amos Gitai Research Rivka Gitai Assistant Marieke Staub, Ivonne Dippmann, Haim Rinsky Artistic advisor Sari Turgeman, Marie-José Sanselme Production Agav Films Co-Producer(s) Arte France Cinéma, Elefant Films, Achab Films, Hamon Hafakot, Agav Hafakot In association with Centre national du cinéma et de l'image animée, Arte France, Rai Tre, Rai Cinema With the support of The Rabinovich Foundation for the Arts - Cinema Project, Cultural Administration Israel Ministry of Culture and Sport, The Israeli Film Council
Festivals
Venice : Biennale di Venezia / Mostra d'arte cinematografica 2012 - Out-of-competition