Exhibition: Amos Gitai - Chronique d'un assassinat annoncé
Fondation Lambert in Avignon - July 3 / November 6, 2016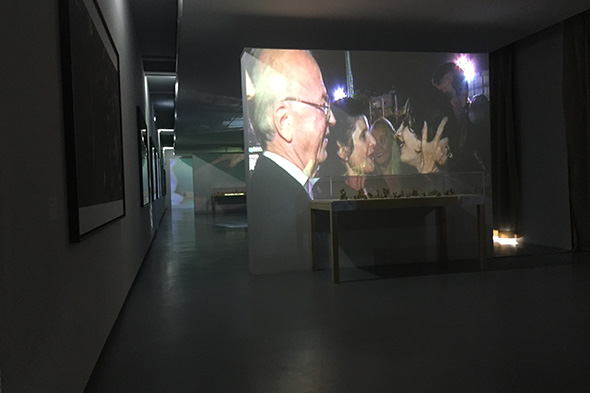 In the large gallery of the Hôtel de Caumont (Avignon), the artist reinvents the project presented at the MAXXI in Rome and at Bozar (Brussels) (Spring/Summer 2016) after his recent feature film Rabin, The Last Day, presented at the 72th Venice Film Festival. Ceramics, photographs, and video installations propose a new reading of the events that led to the assassination of the Israeli prime minister Yitzhak Rabin on 4 November 1995, in Tel Aviv. The exhibition is also an echo of the theatrical performance given on 10 July 2016 in the Cour d'honneur of the papal palace for the Festival d'Avignon.
Website of Collection Lambert in Avignon
---
Yitzhak Rabin : chronique d'un assassinat, theatrical performance, 72th festival d'Avignon, Cour d'honneur du Palais des papes, July 10th, 2016, 10pm
(Photo Christophe Raynaud de Lage)
Last year, architect-turned-filmmaker Amos Gitai directed Rabin, the Last Day, an investigation into the assassination, on November 4, 1995, of the Israeli Prime Minister, after a demonstration for peace and against violence in Tel-Aviv. The assassination cast a cold and brutal light on a dark and terrifying world-a world that made murder possible, as it suddenly became apparent to a traumatised public. For the Cour d'honneur of the Palais des papes, using the memories of Leah Rabin, the Prime Minister's widow, as a springboard, Amos Gitai has created a "fable" devoid of formality and carried by an exceptional cast. Four voices brought together to create a recitative, "halfway between lament and lullaby," to travel back through History and explore the incredible violence with which the nationalist forces fought the peace project, tearing Israel apart. Four voices caught "like in an echo chamber," between image-documents and excerpts from classic and contemporary literature-that bank of memory that has always informed the filmmaker's understanding of the world. For us, who let the events of this historic story travel through our minds, reality appears as a juxtaposition of fragments carved into our collective memory.
Text: Amos Gitaï and Marie-José Sanselme
Direction: Amos Gitaï
Lights: Jean Kalman
Music: Jean-Sébastien Bach, Claudio Monteverdi, Györgi Ligeti
Choir direction: Johan Riphagin
With Hiam Abbass, Sarah Adler, the musicians Edna Stern (piano), Sonia Wieder-Atherton (cello), the Luberon choir
Production: Agav Films
In partnership with RFI, France 24 and Monte Carlo Doualiya
Listen to the podcast of the show (broadcast on France Culture on July 10, 2016, 10pm)
---
Exhibition: Amos Gitai. Chronicle of an Assassination Foretold
Bozar Museum, palais des Beaux-Arts, Brussels - 17 June/04 September 2016

http://www.bozar.be/fr/activities/112519-amos-gitai

---
Exhibition: Amos Gitai. Chronicle of an Assassination Foretold
MAXXI - National Museum of 21st Century Arts, Rome
11 March 2016 - 5 June 2016
A project by Amos Gitai
 curated by Hou Hanru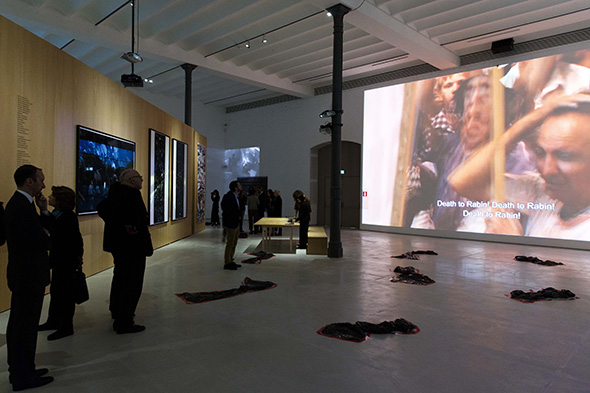 Saturday 4 November 1995: the Israeli prime minister Yitzhak Rabin is assassinated young practising Jew at the end of a major political protest. One of the founding fathers of the State of Israel, a politician of great standing thanks in part to his attempts at conciliation with the Palestinians, was therefore killed not by a terrorist but by a strictly Orthodox Jew.
Gitai's project for MAXXI was born out of the film presented in its complete version at the Venice Film Festival, Rabin the Last Day, conceived not only a tribute to Itzhak Rabin 20 years after his death, but also as an attempt to portray the growing crisis in the Israeli society of today.
On show at MAXXI will be five video projections, including a number of extracts from the film and photographs and documents recounting its making.
http://www.fondazionemaxxi.it/en/events/cronaca-di-un-assassinio-annunciato/
---
More news on the French version of this page
Before & After, solo exhibition, Galerie Thaddaeus Ropac Salzburg, Villa Kast
24 Jan 2015 - 14 Mar 2015
In his solo exhibition Before & After Amos Gitai presents two Super 8 films, Before & After and Black & White, along with works from his photographic series.
---
Tsili, U.S. Premiere
New York Jewish Film Festival
THE JEWISH MUSEUM + FILM SOCIETY OF LINCOLN CENTER
19 janvier 2015, Lincoln Center
Lincoln Center, January 19, 2015
More informations
More about Tsili
---
Strade/Ways
Carpet / Talking to Gabriele / Lullaby to my father

Installation, Palazzo Reale, Milan
1 December 2014 - 1 February 2015
Production: Moshe Tabibnia Gallery in association with Palazzo Reale
Catalogue : Giunti/Moshe Tabibnia (3 vol.).
A mutilayer installation relating videowork, the vernacular genius of the traditional carpets and a photographic work by Amos Gitai which was done in preparation of his film Carpet. In this installation, Amos Gitai wants to install the great tradition of carpetmaking in relations to the current abuse of the people and landscapes of the Middle East. It is a mental voyage using different components: carpets, photographic essays done in Turkey and Azerbaijan and video elements in reference of his first feature film Esther telling the biblical story the queen Esther in ancient Persia and a recent cinematographic work Amos Gitai did on the Book of Amos. In these, we see the echos of archaic texts as they are situated in today's world.
As an annex to the carpet installation there is an hommage of Amos Gitai to his father Munio Gitai Weinraub and to his friend, the Milanese photographer Gabriele Basilico.
---
Amos Gitai Architect of Memory

A Multimedia Exhibition, Musée de l'Elysée, Lausanne
17.09.2014 - 04.01.2015
Dedicated to the work of Israeli filmmaker Amos Gitai, this exhibition is a coproduction with the Swiss Film Archive, the Cinemathèque française and Galeries, Brussels. Created from his archives, this multimedia project explores forty years of work, combining rare documents, film extracts and photographs. The exhibition reveals themes that are important to him: boundaries, architecture, wastelands, language and history, organized as follows: "Kippur, Birth of a Filmmaker", "Realities and Boundaries", "Mythologies" and "Exile and the World".
The collective book Amos Gitai Architecte de la mémoire (Amos Gitai Architect of Memory), published by Gallimard and La Cinémathèque française, accompanies the exhibition and retrospective.
The exhibition is curated by Matthieu Orléan from La Cinémathèque française.
Amos Gitai retrospective at the Cinémathèque suisse

Complete retrospective of Amos Gitai's films at the Cinémathèque suisse. 
Detailed program on www.cinematheque.ch
---
Aaron-Roland endowed lecture with Amos Gitai

October 29, 2014 6:30 pm - 9:00 pm
Ana Arabia film screening followed by conversation with filmmaker Amos Gitai and Q&A with the audience.

Stanford University, Taube Center for Jewish Studies
Gitai's visit marked the first of the five endowed lectures offered annually by Jewish Studies under the leadership of Professor Charlotte Fonrobert, who became director of the Taube Center for Jewish Studies in September 2014. 
---
Festival internacional de cine de Morelia, Mexico
Amos Gitai, Guest of Honor at the 12th FICM, Festival internacional de cine de Morelia, Mexico
Oct. 23 - Nov. 1, 2014
Screenings
- Carmel (2009)
- Roses à crédit (2011)
- Lullaby to my Father (2012)
- Ana Arabia (2013)
- Tsili (2014)
---
Ana Arabia in official competition at the 70th Venice Mostra
About the film
---
Lullaby to My Father, theatrical release in France on January, 16th, 2013
About the film
---
"Architettura della memoria", a video installation by Amos Gitai at the Museo nazionale del cinema in Torino from November 4, 2011 to January 8, 2012
Located in the underground area of the Mole Antonelliana, the city's architectural landmark, the video installation titled "Architettura della memoria" is based on the figure of Amos Gitai's father, a renowned architect imprisoned by the nazis, and develops such themes as memory and the need for transmission. This installation will be accompanied by a film retrospective and a discussion with Amos Gitai on Saturday, November 5, 2011 from 12 am to 1 pm.
More info on www.museonazionaledelcinema.it
---
"Traces" and "Correspondence": exhibits in Ein Harod, Israel
"In recent years I've been focusing on that family microcosm, both through my mother's letters in my film Carmel, and through my father's works. Most of my own works usually say something about a certain context, but now the context appears to be so chaotic I decided I want to say something about the tiniest microcosm, my parents," said Gitai.
The exhibit presents both Efratia, Amos Gitai's mother, a teacher born to parents from the Second Aliah, her intimate story and at once the story of the whole country through letters she wrote to family and friends through the years, and Munio, Amos Gitai's father, an architect trained at the Bauhaus in Dessau, and his contributions to the construction of the country with fragments of Lullaby to My Father, Amos Gitai's latest film.
Both exhibitions run parallel at Ein Harod Museum, Israel.
Download the press review (ZIP 2.80 Mb)
---
"Traces", an installation at the Palais de Tokyo, Paris
From February 5th to April 17th, 2011. A vast installation of exceptional density set in the basement of the Palais de Tokyo, a place where the Nazis stored the works of art spoliated from the Jews during German occupation.
"Traces" displays fragments of films by Amos Gitai projected onto the bare walls of the building, enveloping viewers in images and sounds.
"Traces" is conceived as an emotional and intimate experience within a collective history.
Download the press review (ZIP 1.00 Mb)
---
"Roses à Crédit" at the Toronto International Film Festival
The 35th Toronto International Film Festival will present Amos Gitai's new film Roses à crédit in the "Masters" programme. The films will be screened on September 12, 13 and 19.
More info on the festival website
---
"Carmel" at the MoMA, January 13-18, 2010
Starting January 13, 2010, the MoMA will present six screenings of Carmel. This event follows a retrospective of Amos Gitai's documentaries that was held at the MoMA in Fall 2008.
Read the review on the New York Times website
---
Munio Weinraub / Amos Gitai : Architecture and Film in Israel
From November 6, 2008 to February 8, 2009, the Museum of Architecture in Munich presents "Munio Weinraub / Amos Gitai - Architecture and Film in Israel", an exhibition dedicated to the films of Amos Gitai and the works of his father Munio Weinraub (1909-1970), an architect trained at the Bauhaus who moved to Palestine in 1934 and took an active share in the building of Israel. The juxtaposition and confrontation of the works of father and son provide an intensive insight into the developments and problems of Palestine und Israel.
(Photo: Histadrut Tax Office, Kiryat Eliahu, Haïfa, 1964-65, © Gabriele Basilico)
---
Amos Gitai's documentaries at the MoMA

Under the title "Amos Gitai: Non-Fiction", the MoMA organizes a showcase of Amos Gitai's documentary films. The retrospective runs from October 24 to November 2, 2008.
More info on the MoMa website
---
One Day, You Will Understand... at the Toronto Film Festival

One Day You'll Understand will be shown at the TIFF 2008 (September, 4-13, 2008) on September, 5 and 6.
Find out more on the festival website
---
Amos Gitai receives the Leopard of Honor at Locarno
Last August 7, Amos Gitai received the Leopard of Honour at the 61st Locarno International Film Festival (August 6-16). This life-achievement award is offered in recognition of the work of renowned directors whose creativity has had an unquestionable impact on contemporary cinema. Some notable recipients include Hou Hsiao-hsien, Alexandre Sokourov, Abbas Kiarostami, Terry Gilliam, Ermanno Olmi, Jean-Luc Godard, Samuel Fuller, Manoel de Oliveira, Jacques Rivette... On this occasion, the festival has shown a selected retrospective of Amos Gitai's films. Amos Gitai has been a guest at Locarno on several occasions in the past to present his films and, in 1992, as a member of the jury.
---
One Day, You Will Understand... at the Berlinale
One Day You'll Understand, Amos Gitai's new feature films, is presented at the Berlin Festival in the "Berlinale Special" section.
Adapted from the biography of Jerôme Clément (Head of Arte TV), this project was produced for France Télévision by Images et Compagnie. Its cast includes Hippolyte Girardot, Emmanuelle Devos, Dominique Blanc et Jeanne Moreau. The screenings will be on Monday, Feb 11 à 9.30pm and Wednesday, Feb 13 at 5.30pm.

More info on the Berlinale website.

---
Disengagement
September 2007. Disengagement directed by Amos Gitai with Juliette Binoche, Liron Levo, Jeanne Moreau, Barbara Hendricks et Hiam Abbass was screened at the Venice Mostra and at the Toronto IFF. Theatrical release in France is due Spring 2008.

---
House, A House in Jerusalem and Amos Gitai's latest film News from Home / News from House: the documentary trilogy at the La Rochelle International Film Festival
In 1980, Amos Gitai shot a documentary film, House, which retraced the story of a house in West Jerusalem and of its Palestinian and Israeli owners from 1948 onward. Eighteen years after, Amos Gitai returned on the premises to observe the changes of its inhabitants and of the neighborhood : it is A House in Jerusalem. In 2005, with News from Home / News from House, he returns there to carry on his investigation.
With these three films, story meets history. The private destinies of the house's successive inhabitants follow the loops of the Palestinian and Israeli history. All the political, territorial and social dramas that have never ceased to tear the area for more than a half century, replay at the scale of a house.
- House and A House in Jerusalem
Saturday 1st July, 5:30pm, La Coursive, Salle bleue
- News from Home / News from House
Sunday 2nd July, 10:30pm, La Coursive, Salle bleue
Both screenings will be introduced by Amos Gitai.
More info on www.festival-larochelle.org
A transcript of the Conversation Amos Gitai / Peter Cowie, held during the Berlin European Film Festival on December 2, 2007, is now online.