World sales / Distribution

France
K-Films
7, rue Commines
75003 Paris
France
Tel.: +33 (0)1 42 74 70 14
Fax: +33 (0)1 42 74 70 24
E-mail: kfilms@noos.fr
Web: www.k-films.fr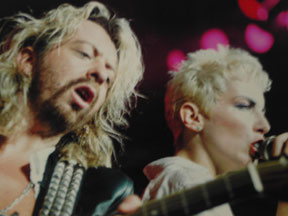 The 1986 Eurythmics tour of Japan. It is the end of the world tour during which Annie Lennox (vocals) and Dave Stewart (guitar) promote their latest album "Revenge". It is also, between concerts, the shock of discovery: a world of sounds as cultivated by the Japanese, both brutally technological and highly refined traditional expressions.
"The result is a fascinating and idiosyncratic exploration of Japan and its music culture, during witch the taciturn Dave and the more talkative Annie improvise and philosophise respectively, experiment with Japanese sounds and locations, compare notes (in every sense) with local musicians, and reveal to the full their genuine passion for music and gift for live performance, be it in concert, bamboo forest or the backs of cars."
Clyde Jeavons, London Film Festival catalogue, 1987
Cast Annie Lennox, David A. Stewart, Jimmy "Z" Zavala, Patrick Seymour, Clem Burke, Chucho Mercham, Joniece Jamison, Ryuichi Sakamoto, Kenny Endo, Conny Plank, Toru Takemitsu, Watazumido Doso Roshi Cinematography Nurith Aviv Sound Daniel Ollivier Editing Anna Ruiz Music Eurythmics Executive producer(s) John Stewart Line producer(s) Kevin Gallagher Production Agav Films, Oil Factory (UK)
Festivals
Rotterdam International Film Festival 1988

See a selection of articles about this film